The new PUK MAW is adept at welding accessories, adding metal, fixing works, welding rings, closing flips, seam welding and welding metals such as stainless steel, CoCr, CoNi, titanium, steel from 0.2mm thickness.

THE MOST POWERFUL AND VERSATILE WELDING MACHINE FROM LAMPERT

New Micro Arc Welding Machine
Precision welding machine for industrial applications. We start where others stop: The Micro Arc Welder enables welds of the thinnest materials and complex structures, applications largely considered unsuitable for conventional TIG welders. With preset parameters for a variety of alloys and a broad yet finely adjustable power spectrum, the Micro Arc Welder makes it easy to weld the toughest parts.
Features
- Tried and tested welding parameters for all common materials
- Tremendous versatility thanks to a power range of 5 to 1000 A
- High power (with 1 mm electrode) for the required 1mm weld penetration
- 3 step selectable speed welding pulse sequence up to 3.3 Hz
- Welding without distortion even with continuous high power shots

Operation
- Clear, simple device operation with a single screen interface
- Can be adjusted from 1% to 100% for impact strength and from 0.1 to 34 ms for impact duration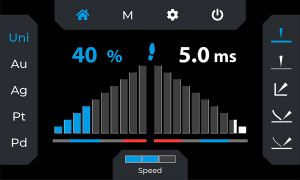 - High resolution display with 768 x 576 pixels for maximum viewing angle even in harsh environmental conditions
- Newly designed, patented welding process control that prevents welding errors
- Intuitive one-handed operation even with gloves on